CRICKET® magazine for ages 9–14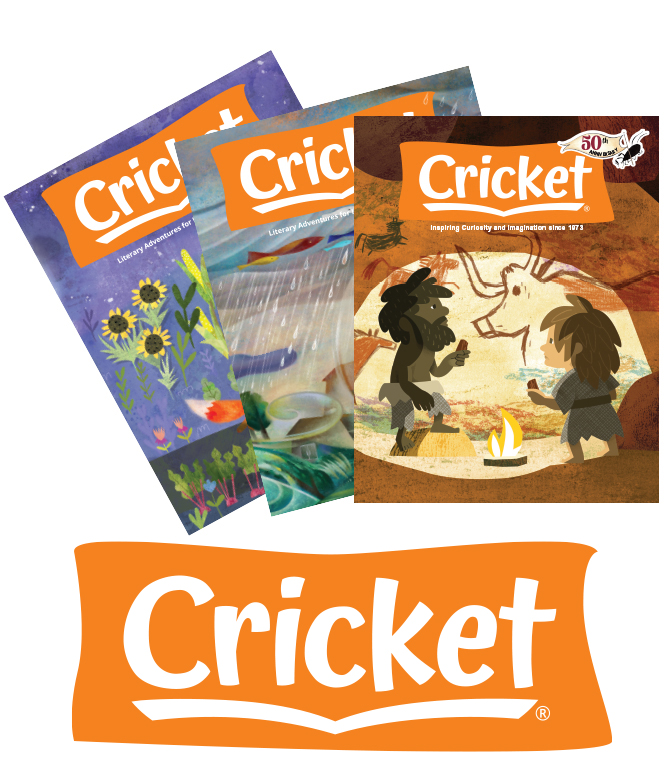 CRICKET® magazine seeks to publish the highest quality fiction, poetry, and literary nonfiction to engage our audience of enthusiastic young readers. Editors consider unsolicited submissions from writers of every level of experience. Since its founding in 1973, CRICKET has published some of the most respected writers of children's literature. It is also a wonderful opportunity for promising new writers to showcase their best work.
CRICKET does not distribute theme lists for upcoming issues. However, we have particular interests in stories that explore themes of identity (gender, race and ethnicity, neighborhoods, beliefs and traditions); citizenship and global cultures; scientific and technological exploration; and the creative spirit.
Calls for Submissions:
General submissions are always open.

Guidelines
Before submitting, be sure to familiarize yourself with our magazines. (Sample copies are available for viewing at the Cricket Media Store, or you can order a current issue by calling 800-821-0115.) Issues are also available at many local libraries.
Fiction
CRICKET is interested in realistic contemporary fiction, historical fiction, science fiction and fantasy, folk tales, myths and legends, and humor. No matter what genre, the author should first and foremost tell a good story that is well plotted, character-driven, and has a satisfying conclusion.
Folk tales, myths, and legends, especially lesser known ones from non-Western cultures, are always welcome in CRICKET. Retold tales need to be re-imagined with the same liveliness and detail of character as original stories. Please include a bibliography of sources for retold tales.
Sci-fi and fantasy manuscripts, besides being clever and imaginative, should tell a solid story with well-drawn characters. Stories featuring adventurous main characters in the age-range of CRICKET readers are most likely to succeed. CRICKET is enthusiastic about sci-fi and fantasy with a human touch, but is not a venue for excessively dystopian or warlike fantasy stories.
Historical fiction, a mainstay of CRICKET, should recreate a world accurately but with a primary focus on an energetic plot and robust characters. While modern kids no longer attend one-room schoolhouses, plow fields, or resist Roman invasions, your story should transport them across the historical divide to identify with timeless challenges of growing up and taking on responsibilities.
Contemporary realistic fiction may be light-hearted or serious. Stories typically feature lively and sympathetic main characters within the age range of our subscribers. Protagonists tend to be curious and sincere, functioning mainly within a kid's world as they struggle to find a path through the sometimes-hilarious challenges of everyday life.
Keep in mind that CRICKET is aimed at middle-grade readers, a somewhat more protected stage than young adult. Innocent romance is welcome, but not sexual situations. Families in CRICKET can reflect the realities of contemporary life (e.g., latchkey kids, divorced parents) but not seriously disturbing situations or abuse.
CRICKET readers want to read about characters who are actively meeting their own challenges—not passively relying on the intervention of adults to solve problems of friends, family, and school. Even if not fully successful, characters in CRICKET at least progress in coming to terms with themselves and life.
Tips: A story should be a fully realized sequence of scenes and action – not just a sketch or vignette or image—with tension and dynamism between characters. Most CRICKET stories present a balance of dialogue and description. Dialogue should be natural and interesting, and avoid speechifying. Stories should "show, not tell"—that is, present scenes and reveal character through dialogue and action, not summary narration.
Stories giving our mostly American audience insight into diverse cultures are especially welcome.
Length: Most CRICKET stories are 1200–1800 words in length; however, we occasionally serialize compelling longer stories of up to 6,000 words. Submissions above this length will not be read. Authors of longer works are encouraged to submit excerpts, provided that these excerpts are under 6,000 words. We also need shorter pieces of 600–900 words.
Nonfiction
CRICKET publishes thought-provoking nonfiction articles on a wide range of subjects: history, biography, true adventure, science and technology, sports, inventors and explorers, architecture and engineering, archaeology, dance, music, theater, and art. Articles should be carefully researched and include a solid bibliography that shows that research has gone beyond reviewing websites.
Tips: Unlike a textbook or encyclopedia, CRICKET articles humanize history and discovery by telling a story clarifying how inventors and pioneers solved their problems and overcame difficulties. Including childhood anecdotes often helps our readers identify with people of great accomplishment.
Length: 1200–1800 words
Poetry
CRICKET publishes both serious and humorous poetry. Poems should be well-crafted, with precise and vivid language and images. Poems can explore a variety of themes, from nature, to family and friendships, to whatever you can imagine that will delight our readers and invite their wonder and emotional response.
Tips: Keep in mind that CRICKET is for pre-teen and early teens, young but thoughtful, curious readers. Poetry should feel contemporary, never singsong or moralizing.
Length: Most CRICKET poems are 8–15 lines, but can be as short as 3 lines or up to 35 lines. Please submit each poem individually. Do not combine them.
Puzzles, Crafts, Activities
CRICKET readers enjoy logic and math puzzles, crafts, recipes, science experiments, as well as games and activities from different historical times and cultures.

Procedure
We only accept online submissions, and the Submittable page you're currently on is the only place we accept them. We do not accept hard-copy submissions or email submissions. Submittable accepts international submissions.
Please do not email submissions to editors or Customer Service.
Cricket Media's literary magazines (BABYBUG®, LADYBUG®, SPIDER®, and CRICKET®) will consider all manuscripts that are sent on speculation. We do not accept queries. Please submit a complete manuscript. (Manuscript should be submitted as a .doc, .docx, .txt, or .rtf file.) Fiction and nonfiction manuscripts should include an exact word count; poetry manuscripts should include an exact line count. Include full contact information: phone, email, and mailing address.
Please allow up to 3–6 months response time.
Questions may be directed to our email at submissions@cricketmedia.com.

What Happens Next?
The Manuscript Review Process
After manuscripts are received, they are reviewed by first readers. First readers consider each submission's literary potential and whether it might be a good fit for one of our magazines.
Promising submissions are then carefully reviewed by several editors, including the magazine's editor.
The magazine editor makes a final decision on whether to reject or accept the manuscript. For manuscripts that show some promise but need further development, the editor may write the author to request revisions on speculation.
After Acceptance
If we accept your manuscript, we will send you an acceptance letter detailing payment and rights information and any revisions we would like you to make (which acceptance shall only be binding upon your signing a final agreement that embodies agreed-upon rights and terms).
Once we've received your revisions, we carefully line edit the manuscript. The manuscript is then returned for your review. We work closely with our writers to bring out the best in each story, essay, and poem.
Once the manuscript is edited, it will be kept on file until it is assigned to an issue. Because we work 6–8 months ahead of each issue, it can be a year or more before a manuscript is placed.

Rights
Stories and poems previously unpublished: Rights vary.
Stories and poems previously published: CRICKET purchases second publication rights. Fees vary, but are generally less than fees for first publication rights.
Rates
Stories and articles: up to 25¢ per word
Poems: up to $3.00 per line; $25.00 minimum
Activities and recipes: $75.00 flat rate

Art Submissions
See our submission guidelines for artists.