LADYBUG® magazine for ages 3–6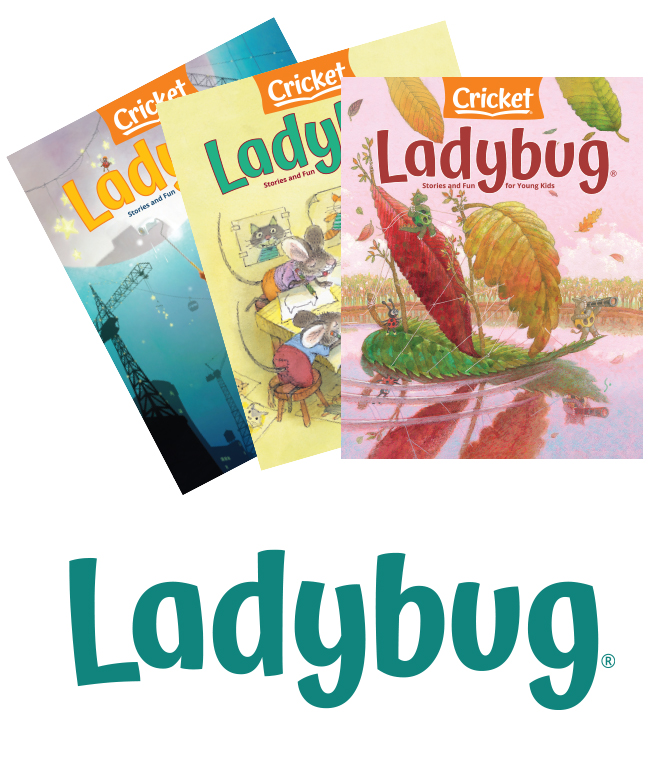 LADYBUG®, a literary magazine for young children, features original stories, poetry, nonfiction, and activities written by the world's best children's authors—both known and new. When reviewing submissions, the editors look for clear and beautiful language, a sense of joy and wonder, and a genuinely childlike point of view.
We have particular interests in stories that explore themes of identity (gender, race and ethnicity, neighborhoods, beliefs and traditions); citizenship and global cultures; scientific and technological exploration; and the creative spirit.
Calls for Submissions:
General submissions are always open.
Check back soon for more calls for submissions!
Guidelines
Before submitting, be sure to familiarize yourself with our magazines. (Sample copies are available for viewing at the Cricket Media Store, or you can order a current issue by calling 800-821-0115.) Issues are also available at many local libraries. LADYBUG does not distribute theme lists for upcoming issues.
Fiction
LADYBUG publishes finely crafted and imaginative contemporary stories, original retellings of folk and fairy tales, and funny pieces with human characters or anthropomorphic animals. City settings and stories that take place outside the United States are especially welcome, as well as subject matter that appeals to both boys and girls.
Length: Stories may be up to 800 words, but significantly shorter manuscripts are accepted, and are often appropriate for LADYBUG's young readers. We are also interested in rebus stories up to 200 words.
Poetry
Poems are generally rhythmic/rhyming; the tone may be serious or humorous. While we accept poems about seasons and the natural world, at this time we are actively looking for poetry that explores young children's daily lives and their emotions and imaginations. We are also interested in action rhymes (energetic poems that call for physical movement).
Length: Poems may be up to 20 lines in length; on rare occasions, longer narrative poems are accepted.
Nonfiction
The editors seek simple explorations of interesting places in a young child's world (such as the library and the post office), different cultures, nature, and science. These articles can be straight nonfiction, or they may include story elements, such as a fictional child narrator.
Length: Nonfiction may be up to 400 words; backup materials and photo references may be requested upon acceptance.
Activities and Games
LADYBUG publishes unusual and imaginative activities, riddles, games, and crafts. Please see past issues for models and inspiration.
Songs
We seek playful, engaging original songs. Songs should be lively and interesting, yet simple and short enough for a young child to sing or play on a keyboard with help from a caregiver with some musical background. Original songs (lyrics and a melody line that may include chords) can be uploaded as PDFs. Please see past issues for examples.
Procedure
We only accept online submissions, and the Submittable page you're currently on is the only place we accept them. We do not accept hard-copy submissions or email submissions. Please submit online via Submittable. Submittable accepts international submissions.
Please do not email submissions to editors or Customer Service.
Cricket Media's literary magazines (BABYBUG®, LADYBUG®, SPIDER®, and CRICKET®) will consider all manuscripts that are sent on speculation. We do not accept queries. Please submit a complete manuscript. (Manuscript should be submitted as a .doc, .docx, .txt, or .rtf file.) Fiction and nonfiction manuscripts should include an exact word count; poetry manuscripts should include an exact line count. Include full contact information: phone, email, and mailing address.
Please allow up to 3–6 months response time.
Questions may be directed to our email at submissions@cricketmedia.com.
What Happens Next?
The Manuscript Review Process
After manuscripts are received, they are reviewed by first readers. First readers consider each submission's literary potential and whether it might be a good fit for one of our magazines.
Promising submissions are then carefully reviewed by several editors, including the magazine's editor.
The magazine editor makes a final decision on whether to reject or accept the manuscript. For manuscripts that show some promise but need further development, the editor may write the author to request revisions on speculation.
After Acceptance
If we accept your manuscript, we will send you an acceptance letter detailing payment and rights information and any revisions we would like you to make (which acceptance shall only be binding upon your signing a final agreement that embodies agreed-upon rights and terms).
Once we've received your revisions, we carefully line edit the manuscript. The manuscript is then returned for your review. We work closely with our writers to bring out the best in each story, essay, and poem.
Once the manuscript is edited, it will be kept on file until it is assigned to an issue. Because we work 6–8 months ahead of each issue, it can be a year or more before a manuscript is placed.
Rights
Stories and poems previously unpublished: Rights vary.
Stories and poems previously published: LADYBUG purchases second publication rights. Fees vary, but are generally less than fees for first publication rights.
Rates
Stories and articles: up to 25¢ per word
Poems: up to $3.00 per line; $25.00 minimum
Art Submissions
See our submission guidelines for artists.