BABYBUG® magazine for ages 6 months–3 years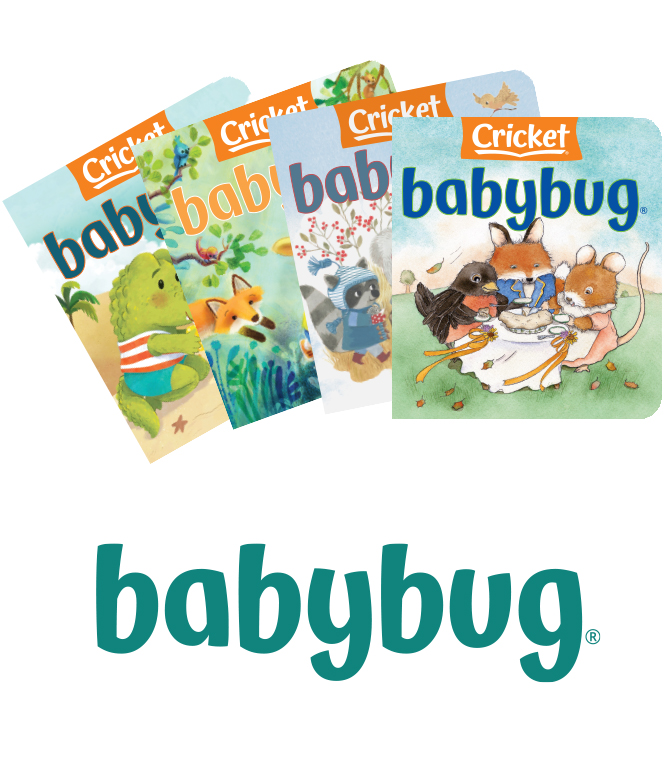 BABYBUG®, a look-and-listen magazine, presents simple poems, stories, nonfiction, and activities that reflect the natural playfulness and curiosity of babies and toddlers. When reviewing submissions, the editors look for manuscripts that please the ear and beg to be read again, as well as those that capture a baby's ongoing discoveries in a few simple, concrete sentences.
We are particularly interested in manuscripts that explore simple concepts, encourage very young children's imaginative play, and provide opportunities for adult readers and babies to interact. We welcome work that reflects diverse family cultures and traditions.
Calls for Submissions:
General submissions are always open.
Check back soon for more calls for submissions!
Guidelines
Before submitting, be sure to familiarize yourself with our magazines. (Sample copies are available for viewing at the Cricket Media Store, or you can order a current issue by calling 800-821-0115.) Issues are also available at many local libraries.
While BABYBUG does not distribute theme lists for upcoming issues, below you will find a list of some (but by no means all) topics of interest to the magazine's editors and readers.
Babies' and toddlers' relationships with others (immediate and extended family members, caregivers, other babies and older children)
Relationships with animals (pets, wild creatures, imaginary animals, etc.)
Learning new things (rolling, crawling, standing, walking, dancing, feeding oneself, talking, joking, singing, holding/using crayons and other art materials)
Daily routines
Becoming independent and saying no
Imitating adults and helping with household chores
Young children's observations of their surroundings (home and childcare settings, neighborhood and city life, the natural world, familiar places like libraries and stores)
Favorite games and toys
Wordplay and silly situations that babies and toddlers find funny
Poetry
Rhythmic and rhyming, poems may explore a baby's day, or they may be more whimsical.
Length: Eight-line maximum.
Stories
Although they are simple and clear, successful BABYBUG stories often end with a gentle or humorous surprise.
Length: Six-sentence maximum.
First Concepts
BABYBUG often features a "first concept," a playful take on a simple idea. Concepts may be expressed through poems, stories, very short nonfiction, or prompts for simple activities. Please see recent issues for examples.
Procedure
We only accept online submissions, and the Submittable page you're currently on is the only place we accept them. We do not accept hard-copy submissions or email submissions. Submittable accepts international submissions.
Please do not email submissions to editors or Customer Service.
Cricket Media's literary magazines (BABYBUG®, LADYBUG®, SPIDER®, and CRICKET®) will consider all manuscripts that are sent on speculation. We do not accept queries. Please submit a complete manuscript. (Manuscript should be submitted as a .doc, .docx, .txt, or .rtf file.) Fiction and nonfiction manuscripts should include an exact word count; poetry manuscripts should include an exact line count. Include full contact information: phone, email, and mailing address.
Please allow up to 3–6 months response time.
Questions may be directed to our email at submissions@cricketmedia.com.

What Happens Next?
The Manuscript Review Process
After manuscripts are received, they are reviewed by first readers. First readers consider each submission's literary potential and whether it might be a good fit for one of our magazines.
Promising submissions are then carefully reviewed by several editors, including the magazine's editor.
The magazine editor makes a final decision on whether to reject or accept the manuscript. For manuscripts that show some promise but need further development, the editor may write the author to request revisions on speculation.
After Acceptance
If we accept your manuscript, we will send you an acceptance letter detailing payment and rights
information and any revisions we would like you to make (which acceptance shall only be binding upon your signing a final agreement that embodies agreed-upon rights and terms).
Once we've received your revisions, we carefully line edit the manuscript. The manuscript is then returned for your review. We work closely with our writers to bring out the best in each story, essay, and poem.
Once the manuscript is edited, it will be kept on file until it is assigned to an issue. Because we work 6–8 months ahead of each issue, it can be a year or more before a manuscript is placed.

Rights
Stories and poems previously unpublished: Rights vary.
Stories and poems previously published: BABYBUG purchases second publication rights. Fees vary, but are generally less than fees for first publication rights.

Rates
Stories and articles: up to 25¢ per word
Poems: up to $3.00 per line; $25.00 minimum
Art Submissions
See our submission guidelines for artists.