ASK® magazine for ages 7–10 (science, nonfiction)
ASK® is a nonfiction magazine for children 7–10 years old who are curious about science and the world they live in. Each edition of ASK is built around a central theme or question.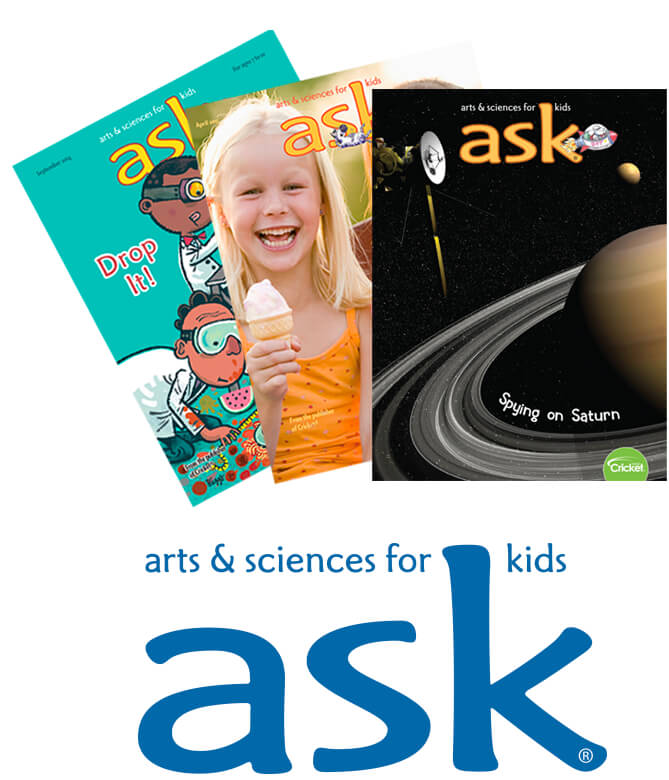 ASK introduces kids to the joys of thinking and questioning scientifically, and presumes them to be active members of the international community of knowledge-seekers. The ideal ASK article is an engaging nonfiction story (or cartoon) that is concrete, specific, and appealing to newly independent readers (grades 3–5), but that an adult reader might also find interesting. Above all, it should tell a good story, with an emphasis on ideas and problem-solving rather than just facts. ASK encourages humor, and believes that no topic is beyond the grasp of an intelligent young person if explained well in lively terms.
ASK encourages writers to stretch the boundaries of topic themes and look for interesting perspectives and unexpected connections. We also love science cartoons.
We particularly welcome writers from traditionally underrepresented communities and diverse life experiences.
Guidelines
All articles in ASK are commissioned; ASK welcomes queries for articles for upcoming themes (see table below). Queries should give an overview of the proposed article, including scope and treatment, resources, and a draft opening paragraph. For cartoons, please provide a rough script, sketches for the first few panels, and one finished or a link to your finished work. Writers new to ASK should also provide a resume and two writing samples, including at least 200 words of unedited copy on any nonfiction topic.
Authors are expected to ensure that all content is scientifically correct in both conception and detail, and drafts should include a full list of references and sources consulted. Authors wishing to write for ASK should consult any past copy to get a sense of the tone, style, and range of articles. (Sample copies are available for viewing at the Cricket Media Store, where you can also purchase a current issue.) Issues are also available at many local libraries.
Feature Articles (400–1200 words, with sidebars)
Photo Essays (400–800 words)
Humor Pieces (200–400 words)
Profiles/Interviews of Scientists, Inventors, Engineers, Artists (200–1000 words)
Theme-appropriate experiments
Science panel cartoons (2–6 pages)
Procedure
Story pitches should be submitted on the Submittable page you're currently on, or emailed to ask@cricketmedia.com. We do not accept hard-copy submissions or queries. Submittable accepts international submissions.
Rights
Articles previously unpublished: Rights vary, with option for authors to retain copyright.
Articles previously published: ASK purchases second publication rights.
Queries and Questions
Queries and questions should be submitted through our Submittable page. Pitches can also be directed to ask@cricketmedia.com. Authors are also encouraged to check the ASK author's page for current edition status, needs, and updates from the editor.
Art Submissions
See our submission guidelines for artists
2020 Issue Themes
January 2020: THE SECRET LIFE OF PIGEONS
What do pigeons do all day? And why?
Possible topics: Pigeon intelligence, lab pigeons, art-critic pigeons, homing pigeons, city bird/country bird, pigeons at war, Darwin's fancy pigeons, flocking, famous pigeons in history. And what's with the head-bobbing?
Queries by: Apr 15 2019
February 2020: FEEDING THE MAYAN EMPIRE
How did the ancient Mayans feed their cities?
Possible topics: Farming Mayan style; life without wheels; calendars for planting; taming plants; harvesting the rainforest; chocolate; numbers and writing; how much food does it take to build a pyramid/city; how we know what they ate; why did their empire fade?; ancient practices still in use; what can we learn from them?
Queries by: May 15 2019
March 2020: LITTLE MYSTERIES IN THE BIG WOODS
What a lovely day for a walk in the woods. But wait, what's that?!?
Possible topics: Any odd thing you've ever wondered about in the woods. Why is that tree such a funny shape? Why do trees shed leaves, and where do all the old leaves go? Why do some trees have needles? How does sap flow up? What's that bumpy lump? What lives at the top? Where do mushrooms come from? What makes spring happen? What if there were no trees?
Queries by: Jun 15 2019
April 2020: BEFORE THE DINOSAURS
Dinosaurs are fun. But what came before them? Creatures even weirder!
Possible topics: Pre-Cambrian creatures (but not all the way back); how dinos evolved; digging for very old fossils; trying out body plans; oceans alive; figuring out what odd fossils are
Queries by: Jul 15 2019
May/June 2020: CATCHING COMETS
Why is space so full of rocks? And snowballs?
Possible topics: Asteroids, meteors, comets, what's the difference; Oumuamua; missions to land on comets/asteroids, how and why; get to know the asteroid belt, Kuiper belt, Oort cloud; famous comets and what they taught us; meteor hunting
Queries by: Aug 15 2019
July/August 2020: I SCREAM FOR ICE CREAM
What's the science of everyone's favorite treat?
Possible topics: Physics of ice-cream making; industrial ice-cream; what's seaweed doing in there; flavors (how made, why those, regional tastes); how to keep things cold
Queries by: Sept 15 2019
September2020: CHANGING CARS
Is the age of the car over? Or just beginning?
Possible topics: New car technologies; cars of the future; how to go faster; green cars (hydrogen, electric, other ideas to reduce fossil fuel use); self-driving cars; car sharing; building better roads; alternatives to cars (electric bikes, scooters, jetpacks?)
Queries by: Nov 30 2019
October 2020: ALCHEMY
What did the alchemists do, and how did they turn into chemists?
Possible topics: How can all these different creatures be made from just four elements?; alchemy in modern life; making new elements.
Queries by: Jan 15 2020
November/December 2020: SNEAKY ART TRICKS
Wait—is that a camera?
Possible topics: Camera Obscura, the painter's friend; profile of a particularly tricky painter (Vermeer? Leonardo?); how to draw perspective; why Michelangelo's David has a big head; how to make a billboard so it looks right from below; "side view" pictures; golden ratio; conservation tricks; trompe l'oeil; how to make gray paint look like metal; animation
Queries by: Feb 30 2020