MUSE® magazine for ages 9–14 (science, nonfiction)
MUSE® is a discovery magazine for children and teens. It takes intellectual curiosity seriously, while never taking itself too seriously. The editors seek fresh and entertaining articles from the fields of science, technology, engineering, art, and math. Timeliness and trustworthiness are essential, but humor, irreverence, and atypical angles are also hallmarks of MUSE.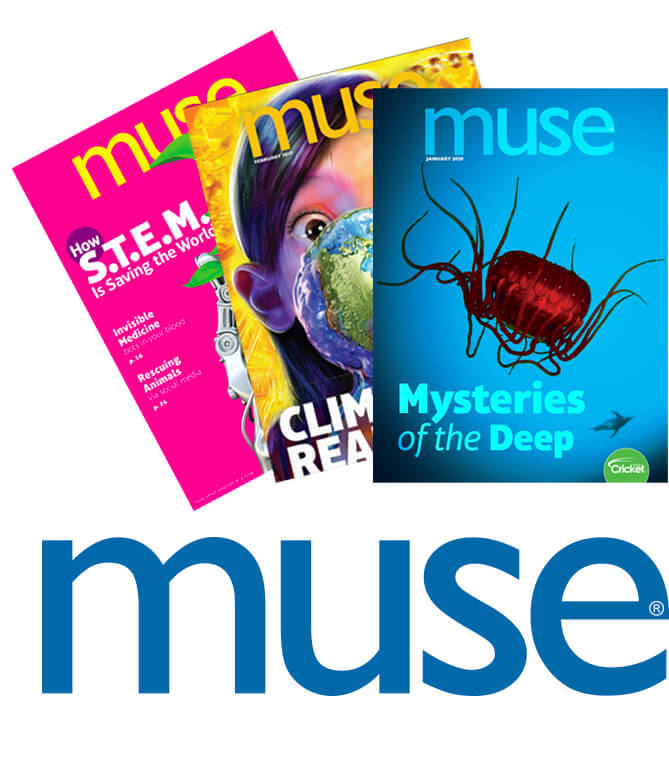 Each edition of MUSE focuses on a central theme and open-ended organizing questions about the theme. Although articles will provide different angles and perspectives on a theme, we aim for every article in an issue to help a reader begin to form at least an initial answer to the organizing questions.
Ideal MUSE articles build on and extend the existing knowledge most young people in grades 4–8 have. We value articles that feature innovators, scientists, and engineers who can explain what they've done in a clear and understandable way. Articles that explore new developments related to the organizing questions are especially welcome.
We seek articles that describe how things and processes work, and we look for claims or assertions to be backed up with evidence.
Guidelines
Interested writers should familiarize themselves with MUSE's style and content, particularly in recent issues. (Sample copies are available for viewing at the Cricket Media Store where you can also purchase a current issue.) Issues are also available at many local libraries. Authors are expected to ensure accuracy in both conception and detail. MUSE purchases all rights to materials.
Feature Articles (800–2,000 words, including sidebars)
Profiles and Interviews, particularly of underrepresented STEM professionals (500–800 words)
Activities and Experiments (500–800 words)
Photo Essays (100–300 words)
Science Fiction or Science-Focused Fiction (800–1,200 words )
Infographics
Procedure
Articles are commissioned. We invite detailed queries for articles related to upcoming themes (see below). Detailed queries include a cover letter, an outline of the proposed article, including scope and treatment, and proposed resources. Writers new to MUSE should also provide a resume and writing sample. Authors wishing to write an article that belongs in MUSE but doesn't fit posted themes may submit an abbreviated pitch that conveys the idea in a paragraph or two. No unsolicited manuscripts please.
Pitch here on this Submittable page (the editors' preference) or via email to muse@cricketmedia.com. If emailing, include the word "QUERY" and the issue's month/theme in the subject line.
Art Submissions
See our submission guidelines for artists.
2024 January-May Issue Themes
January: ICE-COLD
The wonders and perils of ice
Glaciers and climate change, endangered species in the Arctic, new findings and insights about Ice Age animals, International Iceberg Patrol, ice bridges, ice skating/dancing, ice hockey, bobsleigh, sports medicine, pagophagia, the "new type" of ice, ice experiments for kids, ice hotels, ice sculptures
Queries by June 15, 2023.
February: BOT TALK
The brave new world of bots, nanobots, and robots
The latest innovations and future of artificial Intelligence and ChatGPT and other chatbots, advances and consciousness in robots, human vs. robot/bot capabilities, nanobots in medicine and the environment, microchips and how they are manufactured, robot swarms in space exploration, swimming robots and the search for extraterrestrial life
Queries by July 17, 2023.
March: MOONS ASCENDING
A look at recent and upcoming Moon missions, the latest insights about moons, and how to safely experience the April total solar eclipse
Artemis II Moon mission and goals, astronaut profiles, China's Moon mission program, Chang'e-5 2022 water finding, Caltech and JPL's upcoming Lunar Trailblazer water survey, SOFIA findings and VIPER mission, Jupiter moon news, Europa and Ganymede and Enceladus and the possibility of extraterrestrial life, Moon charts/calendars, eclipses, the April 8, 2024 total solar eclipse and where and how to view it safely
Queries by August 15, 2023.
April: THE LATEST ON GREAT APES
What we know about our cousins and how they're faring
Gorillas, chimpanzees, orangutans, bonobos, loss of forest habitat, endangered status, humans, the latest research, apes' use of tools, ape play and spinning, ape communication, ape "cultures," use of drones in studying apes, rehabilitation centers, apes in experiments, famous apes, ape researchers
Queries by Sept. 15, 2023.
May/June: MAKING MOVIE MAGIC
A peek behind the scenes of spectacular films
Visual effects and the use of green screens, special effects, the use of models, motion control, costume design, effects make-up, cinematography, analysis of notable effects scenes, sound design, soundtracks, songwriting, screenwriting, multiverses, science fiction, making monsters, twins, flying, the people and technology behind the work, actors and stunt doubles, cinematic television shows and movies, the future of movies and movie effects
Queries by Oct. 16, 2023.