MUSE® magazine for ages 9–14 (science, nonfiction)
MUSE® is a discovery magazine for children and teens. It takes intellectual curiosity seriously, while never taking itself too seriously. The editors seek fresh and entertaining articles from the fields of science, technology, engineering, art, and math. Timeliness and trustworthiness is essential, but humor, irreverence, and atypical angles are also hallmarks of MUSE.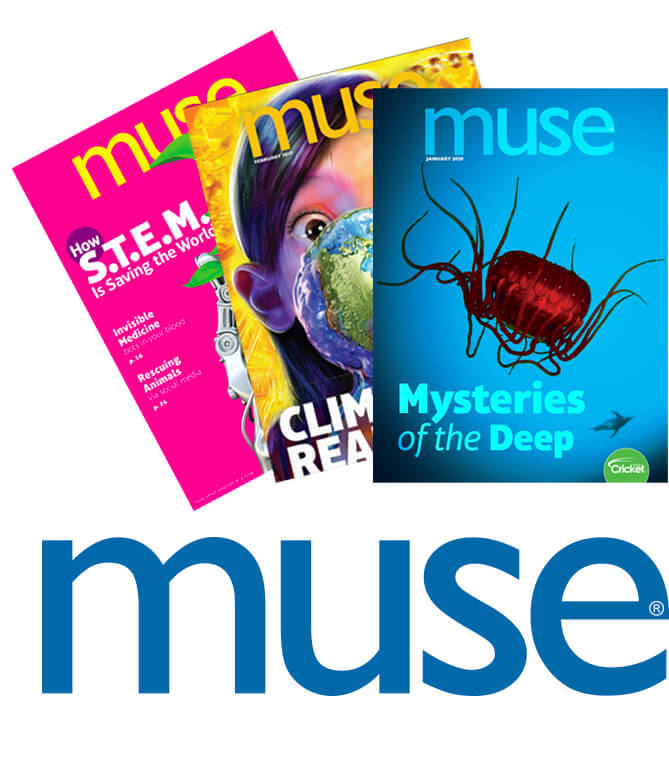 Each edition of MUSE focuses on a central theme and open-ended organizing questions about the theme. Although articles will provide different angles and perspectives on a theme, we aim for every article in an issue to help a reader begin to form at least an initial answer to the organizing questions.
Ideal MUSE articles build on and extend the existing knowledge most young people in grades 4–8 have. We value articles that feature innovators, scientists, and engineers who can explain what they've done in a clear and understandable way. Articles that explore new developments related to the organizing questions are especially welcome.
We seek articles that describe how things and processes work, and we look for claims or assertions to be backed up with evidence.
Guidelines
Interested writers should familiarize themselves with MUSE's style and content, particularly in recent issues. (Sample copies are available for viewing at the Cricket Media Store where you can also purchase a current issue.) Issues are also available at many local libraries. Authors are expected to ensure accuracy in both conception and detail. MUSE purchases all rights to materials.
Feature Articles (800–2,000 words, including sidebars)
Profiles and Interviews, particularly of underrepresented STEM professionals (500–800 words)
Activities and Experiments (500–800 words)
Photo Essays (100–300 words)
Science Fiction or Science-Focused Fiction (800–1,200 words )
Infographics
Procedure
Articles are commissioned. We invite detailed queries for articles related to upcoming themes (see below). Detailed queries include a cover letter, an outline of the proposed article, including scope and treatment, and proposed resources. Writers new to MUSE should also provide a resume and writing sample. Authors wishing to write an article that belongs in MUSE but doesn't fit posted themes may submit an abbreviated pitch that conveys the idea in a paragraph or less. No unsolicited manuscripts please.
Pitch here on this Submittable page (the editors' preference) or via email to muse@cricketmedia.com. If emailing, include the word "QUERY" and the issue's month/theme in the subject line.
Art Submissions
See our submission guidelines for artists.
2020 Issue Themes
January 2020: MYSTERIES IN THE DEEP SEA
Organizing questions: What's down there, and how do engineers and scientists collaborate to study the deepest parts of the ocean?
Possible topics: Tech and engineering behind exploration; Deep sea species; Bioluminescence; Underwater volcanoes and hydrothermal vents; Effects on climate.
Queries by: June 17, 2019
February 2020: FOOD: FROM THERE TO HERE
Organizing questions: How does food get from where it's grown or made to where it's eaten? What happens along the way?
Possible topics: Innovations in food storage; Successes, failures, and opportunities in food transportation; Urban and vertical farming; The eating local movement/CSAs; Reducing food waste; Solutions for food deserts and ways to serve populations in need.
Queries by: July 15, 2019
March 2020: END OF AN ERA
Organizing questions: How do geologists think about Earth's history? What do we know about Earth at the end of the Cretaceous?
Possible topics: How geological eras are defined; Portraits of the planet at the end of the Cretaceous; What animals and plants thrived, and why; What if the meteor hadn't hit?
Queries by: August 19, 2019
April 2020: FEET!
Organizing question: What's the purpose and function of feet—for both humans and other species?
Possible topics: What's the point of the pinky toe? What do shoes do? Earliest shoes/socks; Big toe evolution; Vestigial feet and missing feet; Feet and habitats; Species such as gecko, tapir, basilisk lizard.
Queries by: September 16, 2019
May/June 2020: THE FUTURE OF CARS
Organizing questions: How is the experience of driving changing? What do engineers need to think about when developing driverless vehicles?
Possible topics: Hybrid and electric vehicles; Inside the development of self-driving cars, including pros and cons and ethics; Car sharing; Ride hailing apps; Electric bicycles and scooters; Flying taxis; Drone deliveries.
Queries by: October 14, 2019
July/August 2020: QUEST FOR PERFECTION
Organizing question: What is perfection (especially in math, architecture, art)? Is perfection obtainable?
Possible topics: How does the definition of perfection change among different cultures and over time? Psychology of perfection: when is the quest useful, and when harmful? Symmetry and scale; Perfect structures in nature; The golden ratio; Perfect numbers; What to do when you're not perfect
Queries by: December 2, 2019
September 2020: THE SCIENCE OF READING
Organizing question: What's going on in the brain during reading—and during the process of learning to read? How does reading affect readers and their community?
Possible topics: How do people develop this skill, and why does it matter? What happens in the brains of readers? Learning disabilities and evidence-based teaching methods; Reading as social connection; Technology-assisted reading; Libraries over time; How are books made/visit to a book binder
Queries by: January 13, 2020
October 2020: SUPER POWERS
Organizing question: Where do fictional super powers intersect with real fields of science?
Possible topics: The magic and science of psychic abilities; Animals' special senses and amazing abilities; Real inspirations behind fictional comic book characters; Super heroes and genetics; Mutations and startling or unique genetic variations; Technology that gives us "super powers"
Queries by: February 17, 2020
November/December 2020: KIDS IN CHARGE
Organizing question: What happens when kids raise their voices and take leadership roles in STEAM organizations?
Possible topics: Citizen science projects led by kids; High-stakes student elections; Young activists; Advisory boards composed of tweens and teens; Unschooling and free-range kids; Scouts, 4-H, and other youth leadership development orgs
Queries by: March 16, 2020